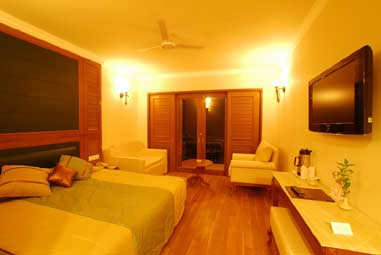 Address:

Mallital,Nainital,Uttaranchal

Description:

Vikram Vintage Inn Nainital is located 65 kms from Pant Nagar Airport, 35 kms from Kathgodam Railway Station, and 3 kms. from Tallital Main Bus Stand. Vikram Vintage Inn Nainital has a total of 41 rooms.At Hotel Vikram Vintage Inn, we welcome you to the First All Suite Hotel in Nainital and an era bygone. Reminisce the days of the Raj, as our well-trained hotel staff indulge you with their hospitality and charm. The old-world setting is complete at Hotel Vikram Vintage Inn with leather chaise lounges and a high-ceilinged British style lobby dominated by a grand chandelier. With 34 well-appointed Superior Room, 02 Double Bedroom Suites, 02 Single Bedroom Suites and 2 Balcony Suites, fully equipped kitchens, and the modern electronic paraphernalia also in place, rest assured that none of the hotels in Nainital – come close to Hotel Vikram Vintage Inn.

Vikram Vintage Inn is Nainital's only super luxury hotel. In stylish furnished Rooms and Suites of Vikram Vintage Inn, you will not be short of any modern day luxury. From LCD Televisions, modern bath fittings to exceptional quality decor, Vikram Vintage is the most famous and luxurious residence in Nainital... Nainital Hotels will never be the same again!!!

Seasons Restaurant at Vikram Vintage Inn, Nainital offers all its guests a good fine dining experience and our charming staff ensure that you come back again for a meal. Since food has always been a subject close to our heart, we care too much in its preparation and presentation. Our chefs at Season's Restaurant often devise new dishes and the menu is kept seasonal so that they can serve you new varieties in no time. Season's menu features mostly Indian cuisine but the chef does prepare select authentic Chinese and Italian delights that can give any speciality restaurant a run for its money. Try Chicken Pepper Steak and decide yourself.


Vintage Bar
Vintage is Nainital's newest and most stylish Bar. A great place to have a drink with your friends. Vintage Bar is well stocked with a great selection of Beers, Whiskies, Rums, Cocktails and a lot more.

Hotel Vikram Vintage Inn boasts of an excellent meeting room decorated in a unique style to provide a great environment for a number of events. From Sales Conferences to Annual General Meetings, the meeting room is fully equipped with all modern features so that you don't have to worry about anything. It is also an excellent location for indoor team building exercise or any kind of a corporate incentive programme.

Since the hotel is Wi-Fi, internet facility is readily available in the meeting room. For all sound, lighting and projection equipment, please request the Banquet team and they will be happy to help you in making a memorable event. Rest assured that your next business meeting will definitely benefit from the facilities available at Vikram Vintage Inn, Nainital.

Room Facility:

Electronic Telephone Exchange with Direct Dial facility,Safe Deposit.

Other Facility:

Doctor on Call,Money changing facility,Tour and travel service

Others:

Multi-cuisine Restaurant - Well stocked Bar - Health Club - Snooker/Billiards - Wi-Fi Internet - Tea/Coffee maker in Suites

Location Advantage:

Hotel Vikram Vintage Inn is located in the quiet of Mallital, just 1.5 kms and just a few minutes walk from Nainital's famous Naini Lake

Access Airport:

65 kms from Pant Nagar Airport

Access Rail:

35 kms from Kathgodam Railway Station
Number of Rooms:
6
Description:
A new wing built in Cottage Style in front of the entrance of the Main Building consists of 06 huge Suites which are equipped with all moderns luxuries including LCD TVs, fire place and tea/coffee makers. All the Suites have a Private Balcony and Attached Bath with Modern fittings.
Number of Rooms:
35
Description:
Hotel Vikram Nainital offers a wide range of services. With 41 Suites in all, 35 Superior Rooms and 06 Luxury Cottage Suites. Facilities common for all these would be - LCD Televisions, Sofa Cum Beds, Attached Beth with 24 hours Hot & Cold Water, and an Electronic Telephone Exchange
Number of Rooms:
6
Description:
Hotel Vikram Nainital offers a wide range of services. With 41 Suites in all, 29 Superior Rooms,6 std. rooms and 06 Luxury Cottage Suites. Facilities common for all these would be - LCD Televisions, Sofa Cum Beds, Attached Beth with 24 hours Hot & Cold Water, and an Electronic Telephone Exchange