MASHAL HILL RESORT, INDORE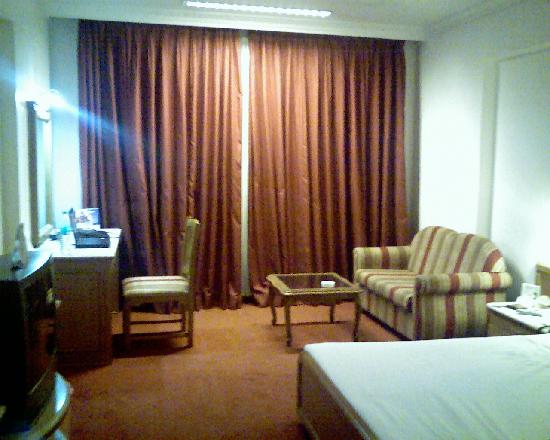 Address:

Agra Mumbai NH 3,Indore

Description:

Mashal-A Hill Resort is one among the finest Economy hotels in Indore. The hotel is notable for providing commendable facilities and personalized services at an affordable price. The wonderful hotel is set in a hilltop in a rambling area of 5.5 acres of land. The hotel commands panoramic view of the landscape around. The hotel is an ideal retreat for those in search of a few days respite and tranquility. Competent hotel staffs will add a special service to make your trip truly unforgettable.

Room Facility:

Impromptu services as well as luxury are the hallmarks of this hotel. Attached baths with round the clock hot and cold water supply, satellite television, direct dial, refrigerator, internet services and 24 hours room service are the facilities offered. All the rooms are elegantly furnished and reflect a soothing ambience.

Other Facility:

Other facilities in Mashal-A Hill Resort in Indore such as laundry, foreign currency exchange, Travel and Airline assistance, doctors on call, car parking and car rentals, sight seeing excursions and weekend packages are the other facilities provided by the hotel. For complete relaxation as well as some fun filled activities Mashal-A Hill Resort in Indore houses some great opportunities to spend your vacation in style. For fitness freaks the hotel houses a well equipped Health Club. In leisure time you can enjoy a game of table tennis or squash, billiards or lawn tennis.
Number of Rooms:
6
Description:
36 rooms. Hotel and room amenities include 24 hrs room service, H/C running water, Multi-channel TV, Direct dialing, Refrigerator, Laundry/ Dry cleaning, Bath tubs, with Jacuzzi, Generator Back-up for Power failure, Facsimile, Photocopy, Postal & courier, Travel assistance for car/ bus hire, Train/ air/ bus ticketing & booking, Large parking area, Car wash, Fire safety system, Swimming pool, gymnasium, Steam/ Sauna/ Jacuzzi bath, Massage care for gents & ladies, Lawn tennis, Squash, Croquet, Table tennis, Billiards & Snookers, Chess, Carom, Card room, Children playing zone, Cricket play ground etc.. Check-out time is at 12.00
Number of Rooms:
36
Description:
36 rooms. Hotel and room amenities include 24 hrs room service, H/C running water, Multi-channel TV, Direct dialing, Refrigerator, Laundry/ Dry cleaning, Bath tubs, with Jacuzzi, Generator Back-up for Power failure, Facsimile, Photocopy, Postal & courier, Travel assistance for car/ bus hire, Train/ air/ bus ticketing & booking, Large parking area, Car wash, Fire safety system, Swimming pool, gymnasium, Steam/ Sauna/ Jacuzzi bath, Massage care for gents & ladies, Lawn tennis, Squash, Croquet, Table tennis, Billiards & Snookers, Chess, Carom, Card room, Children playing zone, Cricket play ground etc.. Check-out time is at 12.00